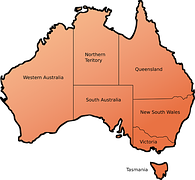 The largest telecommunications company in Australia, Optus, is making big moves in rural areas of the continent. It recently announced an expansion of mobile coverage in 12 Northern Territory regions, using small cells and not towers, according to ZDNet.
Dennis Wong, acting managing director of Optus Networks, told ZDNet that the 12 regions selected are "key locations," and the initiative will deliver a choice in mobile services via "enabling a 'check-in' capability for passing traffic such as traveling workers, truckers and tourists." The move comes after successful small cell trials in Oodnadatta, South Australia, and will use the technology to help cut costs to bring telecommunications services to rural areas that can be more expensive and challenging.           
Telstra also is joining in on the small cell wave, funding them in 135 locations on the continent, according to ZDNet, as part of the government's AU$94.8 million mobile blackspot program. The new locations are added to 429 existing base stations as a part of round one of the initiative. Telstra also plans to roll out voiceover LTE for voice calling in the near future.
Additionally, ZDNet reported that Optus' satellite division has partnered with Ursys, a designer of satellite-based voice and data communications. The partnership will allow Ursys "access to its own satellite capacity along with that of its third-party satellite partners," which include Optus' D2 satellite and teleport facilities in Belrose, Sydney and more.
ZDNet also reported that Vodafone Australia as a part of the blackspot program, will build 70 towers and invest AU$9 million more for 32 mobile base stations in rural areas. The company is expanding its 4G network throughout the continent, ZDNet noted, with an AU$68 million purchase of 1800 MHZ spectrum and "re-farming its 850MHz spectrum band to bring coverage to regional and metropolitan Queensland, New South Wales and the Australian Capital Territory."