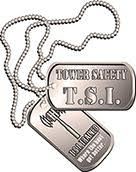 Tower Safety & Instruction's instructors have worked in the wireless industry for more than 25 years as climbers, installers and more. During training, the focus is on tower climbing and equipment rigging techniques, trusting your gear, safety and understanding potential hazards.
CEO Kathy Brand founded the company in 2013, having served as a safety director in the industry and an outside plant installer for AT&T/Lucent. Brand said that her experience led her to believe she could start making small changes in the industry, one student at a time. Through her own experiences in the field, she has become too familiar with harmful, even fatal mistakes, that could have been prevented.
Brand said she was prompted to start her own safety instruction center to make it more financially accessible to crew members "to start giving them a chance and basically the general contractor a chance to afford safety training. I'm a licensed contractor as well, and I know it's expensive to send these guys. They actually love the education; they want to learn," she said. 
Tower Safety & Instruction has a training facility in Phoenix, AZ, and also travels nationwide to sites. Tower Safety & Instruction is an Arizona Private State Board of Education School, recognized for its Telecommunications Tower Technician Certification of Completion. Brand said that they also are starting RF webinars. The on-site facility has the unique distinction of being inside a National Commission For The Certification of Crane Operators school.  When you first walk in there are crane operators learning across the hallway who have allowed Tower Safety students to practice rigging to their cranes.
"They are learning all of the rigging, signaling and crane operations, and then they have the cranes outside," Brand said. "In my classroom area we have all the tower equipment, the harnesses and a lot of visuals around the room to make sure these guys can see how important it is."
Brand said that when she teaches safety on a 35-foot self supporter, a smaller self-supporter and a 20-foot monopole outside her office, she tries to teach behavior first. Books and information aside, she wants students to first understand that she and her instructors care.
"We want you to change just a little bit and take notice, take accountability of what's out there. What's safe, what's not safe, don't ignore it. Trust your instincts," she said.
"Basically when it comes down to it, it's on them. We're trying to stay in front of it by nudging these guys and saying if you think it's not safe, don't do it."
Being a female in a male-dominated industry also has its challenges, but Brand said that it's just like any industry—you have to prove who you are.
"We believe in the honesty, the accountability, the integrity, coaching others; it's about showing others that you can perform safely on a day to day basis and that it is important to come home safe to your loved ones.
For more information, visit www.TowerSafety.com.