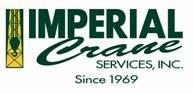 Imperial Crane began in 1969, when the son of German bean farmers, John Bohne, bought a 25-ton crane. Now a nationwide company headquartered in the Chicagoland area, Imperial has become one of the largest crane companies in the world.
Imperial Crane recently purchased more than $10 million dollars in new inventory to meet customer demand, increasing its fleet from 30 to about 250 in size.

The fleet is constantly monitored with daily log books, frequent inspections and on-site mechanics. The company has grown from 80 employees to more than five hundred, and revenue has nearly quadrupled, from $30 million to more than $90 million.
Completed projects include a diverse line of work from the the NFL Draft, Navy Pier Ferris Wheel, Soldier Field and Lollapalooza, to historic water towers, pedestrian bridges and a multitude of telecommunications towers. In-house estimators use the latest programs like 3D lift planning and AutoCAD to provide prompt crane sizing, quotes and permit expediting.
The company has more than 20 years of experience within the space, contributing to a vast amount of knowledge in telecom, rooftops, equipment, towers and more. 
"I think we have that little niche in the market; we have a diverse knowledge of the carriers and customers that we service, from both a carrier standpoint and a general contractor standpoint," said Jay Fisher, vice president of telecom sales.
Software gives clients an exact building layout, structure and hoist plan, including a swing radius and crane location.
Imperial employs in-house staff that handles permitting and has extensive experience in municipalities' needs, which Fisher said goes a long way helping the carriers with speedy deployment. The company also carries $50 million in insurance, which, according to Gina Kaktis, marketing director, is 10 times the industry standard.  "We have an entire safety department with its own office on-site to be able to monitor all of the jobs," she said.
Fisher said that in the tower space, the company has been removing a lot of towers. Other special projects include camouflaged towers in exclusive historical church steeples and bell towers, hoisting equipment inside the towers using 3D lift planning, and naval bases that prefer disguised towers.
"We take the carrier's lead on what they want to do, because they're the ones negotiating with the landlords," Fisher said. "We come in after the fact and say how we're going to hoist it; we pride ourselves on safety; it's our No. 1 concern obviously being with cranes. We bring safety in every hoist that we do."
For more information, visit imperialcrane.com.
By Alyssa Stahr