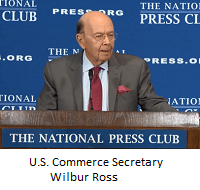 Asked about President Donald Trump's statements on Twitter this weekend about helping Chinese telecom equipment manufacturer ZTE, U.S. Commerce Secretary Wilbur Ross said Monday the department would review it — quickly.
The U.S. Commerce Department last month blocked American firms from selling parts or providing services to ZTE. Ross explained to attendees at a National Press Club luncheon, that ZTE violated U.S. sanctions against Iran and North Korea and the Chinese telecom manufacturer agreed to pay a $1.2 billion fine. But the former bankruptcy specialist said the U.S. found out ZTE didn't live up to the agreement. "It turned out a number of statements ZTE made to us were not accurate. Our initial thought was to impose the 'bad list' so the company can't receive high tech material. That's what led to the shutdown," Ross said.  
ZTE essentially stopped all operations last month because of the ban and was working to get it reversed, the company said in an investment filing last month, Inside Towers reported. Sunday, Trump tweeted that he's working to give ZTE "a way to get back into business, fast" because "too many" Chinese jobs were at risk. He added he's "instructed" the Commerce Department to help ZTE, reported CNN.
The latest development occurs as a second round of trade talks between the U.S. and China begin this week. Ross travelled to China two weeks ago for the first set of such talks, saying he spent 30 hours in flight and another 30 hours in negotiations. "I don't know which was more tiring," he quipped.
"ZTE did do some inappropriate things. They've admitted to that," Ross said. "There are alternative remedies to what we put forward. We will answer that [issue] very, very promptly."
Asked if ZTE would be discussed during this week's second round of trade talks slated to begin today in Washington, Ross said he wouldn't be surprised if the Chinese bring up ZTE, "but our position is, it is an enforcement action, separate from trade."
In general, "China sells us a lot more than we sell them. Retaliations would negatively impact their own economy," added Ross. China has 20 percent of the world's population but only 11 percent of usable farmland, according to Ross. That means "they cannot feed themselves, especially as their diet shifts to include more protein," he added.
By Leslie Stimson, Inside Towers Washington Bureau Chief
May 15, 2018